This is one of the most popular Vietnamese dishes and also one of my favorite! It can be served as an appetizer but can sometimes be filling enough for a whole meal. There are many versions of the spring roll, but the Vietnamese Spring Rolls uses rice paper and is eaten fresh, not fried. There are a variety of ingredients that people put in their spring rolls depending on their preferences. Here is how I make my Vietnamese Spring Rolls with a simple hoisin/peanut dipping sauce.
DISCLAIMER: I normally do not measure the ingredients that I use. Everything is eyeballed and guesstimated but I will try my best to provide you with some type of measurements!
Ingredients:
Rice Paper Rolls
Shrimp
Pork Meat
Lettuce
Cilantro
Cucumbers
Rice Vermicelli / Noodle
Ingredients for dipping sauce:
Peanut Butter (Crunchy or Creamy)
Hoisin Sauce
Water
Steps for the Spring Rolls:
1.) Boil the shrimp with the skin on. Once the shrimp is cooked, drain it and then peal the skin. You can use whole pieces of shrimp but I prefer to cut them in half.
2.) Boil the pork meat. You can use pork belly or regular pork meat (sorry, I don't know the proper name for the parts of the pig but I am sure any type of pork meat without the bone would work fine). Pork belly probably works the best, but sometimes the fat part is too thick for me. I normally cut off most of the fatty part. After the pork meat is fully cooked, cut it in thin slices.
3.) Boil the rice vermicelli/noodle. Any time of rice noodle should work. Once they are cooked, drain all the water out and let the noodles dry. Here are some of the ones that I've tried:
4.) Wash the lettuce (I like to use Romaine lettuce or the red leaf lettuce). Once it is dry, cut the lettuce into thin strips.
5.) Wash the cilantro. You can leave them whole, but I like to cut them into smaller pieces about 1/2 an inch long.
6.) Cut the cucumbers in thin, long slices. I like to use the Mediterranean cucumbers because they are very crunchy and does not have a lot of chewy seeds.
7.) Now you are ready to roll all those ingredients together in the rice paper!! There are many different brands of rice paper (called banh trang in Vietnamese). Sometimes it is also call "spring roll skin", "tapioca wrapper", or "spring roll wrapper". Before using these, they need to be quickly soaked in warm-hot water so that they soften up.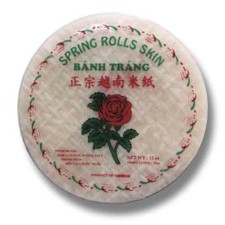 It would be a lot easier for me to show you how to roll the spring rolls than to try and explain it in writing. However, I was not able to upload a video in time but I found a great short video that you can watch.
Steps for the dipping sauce:
1.) Heat up a pan with Hoisin Sauce. This is the same sauce that I use for Pho (Vietnamese beef noodle soup)!! Use about half a bottle or more/less depending on how much spring rolls you make.
2.) Slowly add in about 1/4 a cup of water. The water helps loosen the thick Hoisin sauce. Stir frequently so that the Hoisin and water blends together. Add more water if the sauce it still too thick. Don't worry if you've add too much water because the sauce will slightly thicken once it cools down.
3.) Add about a spoon of peanut butter. You can use either the creamy or chunky peanut butter. Stir the peanut butter until it blends in with the Hoisin sauce.
4.) Let the sauce cool down before serving. Add some spice to it with Sriracha or any other chilli sauce.
As always, I hope you enjoy this recipe as much as I do and let me know how it goes!